Graphics & Creative
Whether you need help with logo design, pattern template design, or print advertising for your next product launch, our fresh ideas will magically transform your visions into branding success.
For example, we can:
Redesign your outdated and tired logo to a fresh new updated look.
Design, write, and send a newsletter with consistent 40%+ open rates.
Design and migrate your current website to a fully customizable,  easy-to-use platform.
Layout a pattern template you can use for all your designs.
Social Media
Harness the power of digital marketing to build trust and engagement with your crafty customer. We've developed best practices and achieved measurable results with social media; using Facebook, Pinterest, Instagram, Twitter, Ravelry and more.
Create compelling contests that increase traffic to your Facebook account.
Plan an editorial calendar of blog post topics, then write and publish them for you.
Optimize your YouTube channel to achieve greater search results for your videos.
Power up your Instagram (click for PDF) and Pinterest(click for PDF) channels for brand awareness and engagement.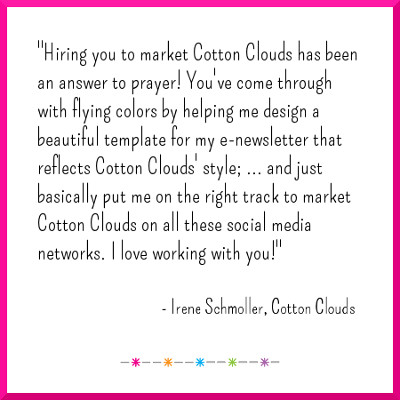 Branding & Strategy
What does your company promise to deliver? Not sure? With our help, you'll have your customers under your spell with a brand strategy and consistent messaging across all your communications.
Critique all your printed materials for branding consistency.
Audit your practices to ensure your communicating your intended message in every area of your business.
Consult with you to outline a strategic marketing plan.
Knitwear Pattern Support & Consulting
We help you manage pattern development from start to finish.
We utilize our database of 150 designers to find the right fit for your collection and help you offer competitive terms.
Not sure what yarn to support, what theme to choose or when to release your new patterns? We consult you every step of the way so these decisions are intentional and strategic.
Let us manage tech editing, photography and listing your patterns quickly and correctly on Ravelry! 
Digital
Your website and search results have a profound impact on the success of your business. We're wizards with search optimization and our team of programmers can polish or rebuild your website. Our digital team can also produce high quality video.
Add an e-commerce component to your existing website or let us help you get products loaded on Etsy, Amazon, or Amazon Handmade.
Provide your customers with high resolution product photography and lifestyle shots of your products.
Integrate your WordPress blog and your site so they don't look like two separate websites.
Set-up professional email for your brand using your domain.
Film, edit and promote a video about your brand story.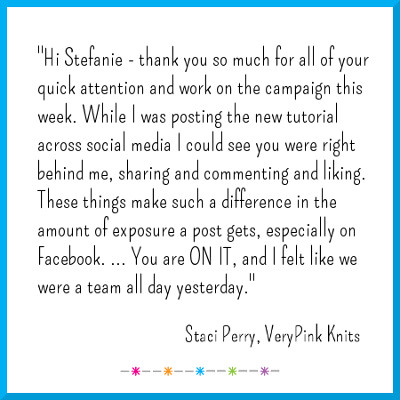 Marketing & Promotions
Reach your target market with carefully selected placements in print, online, and other advertising venues. Our blogger outreach program will get your products in the hands of vetted industry influencers to increase exposure and sales.
Send your products to our list of bloggers and podcasters for greater exposure for your brand.
Reserve, design, and manage your print advertising program.
Target advertising through email, Pay-Per-Click, and Social Platforms.
Perform a competitive analysis of your company with recommendations on how to gain more market share.