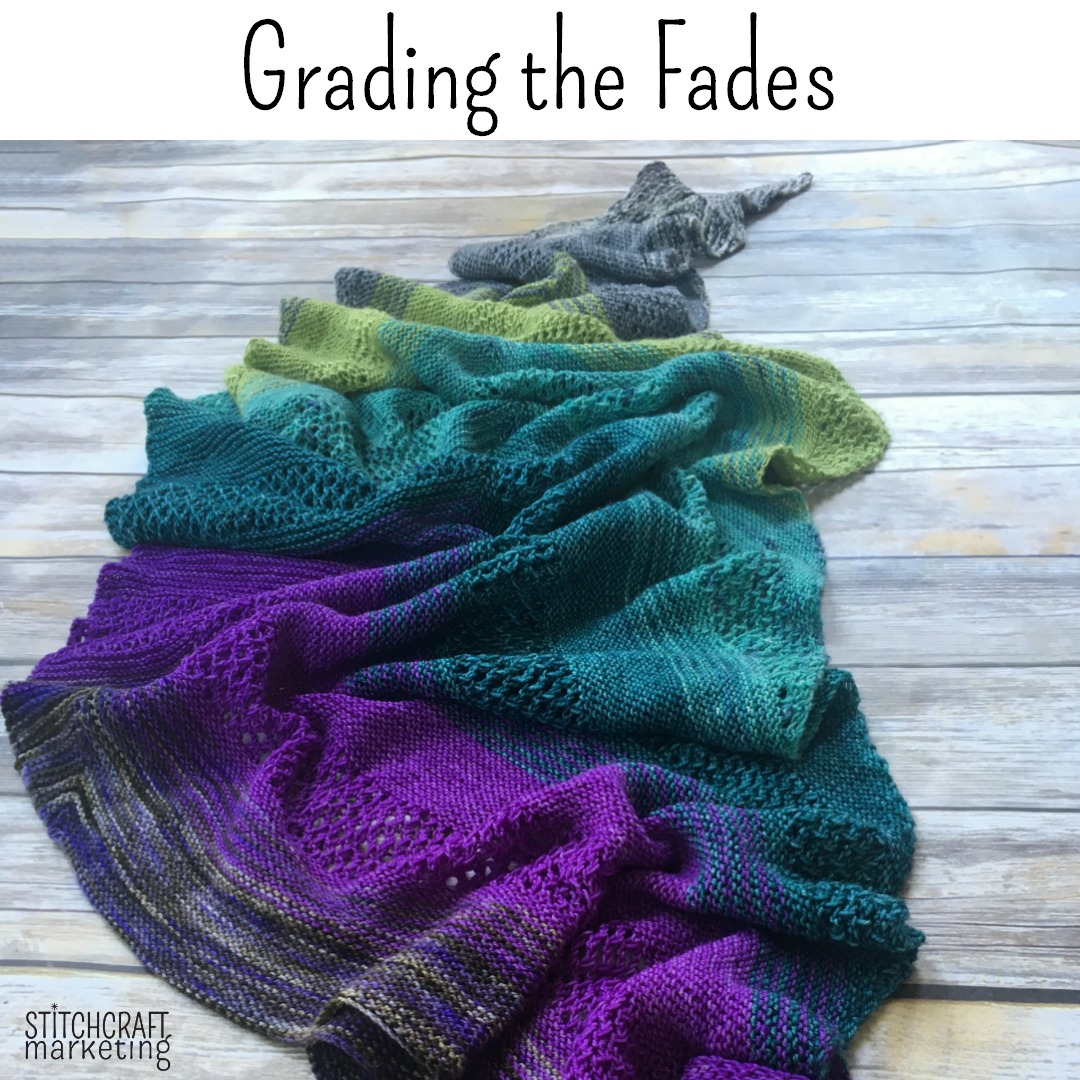 23 Aug

Grading the Fades

Have you Found Your Fade yet? If you have, we're sure you're using some marvelous hand-dyed speckled yarn because #specklesaresohotrightnow. Currently, there are a couple of trends converging in the yarn and knitting world, and observing that intersection gives us an opportunity to discuss originality in creative businesses. Is making products to capitalize on a trend savvy marketing, or is it ripping off someone else's work? Can ways of blending colors and/or yarns be intellectual property? We're not going to get into a copyright discussion here, but we are going to look at how specific techniques create identifiable looks and consider whether imitation is a sincere form of flattery.
Dyers Influence Designers
A few years ago, the indie dyers were all about neon colors, primarily in semi-solids (think Madelinetosh Edison Bulb, a colorway that has since been discontinued). Soon after, the big yarn companies went neon, too, so that you could even get a dependable workhorse yarn like Plymouth Encore in bold colors like Neon Yellow, Neon Green, Neon Pink, and Neon Orange. Neon was everywhere in the yarn world, taking its cue from the world of fashion and interior design.
Move ahead a couple of years: saturated solid and semi-solid colors didn't look as fresh, and the dyers were finding new ways to combine colors. Yarn festival favorites like Fiber Optic's Kimber Baldwin created sets of gradient yarns in mini-skeins that moved from one color to another, or in tints of a single color; other dyers like Freia Fibers, dyeing single skeins in long color transitions, reducing the number of ends a knitter had to weave in, were reaching larger markets. While long color transitions have been a hallmark of Noro yarns, this new wave of dyeing was less abrupt, either shifting within the tints and shades of a single color family (ombré) or moving in steps from one color family to another (gradient). Note that the distinction between the two types of shifting is ours – there doesn't seem to be a consensus on terminology among dyers.
With knitters and spinners getting excited about the possibilities of long color changes, designers began to create patterns that took advantage of the color movement in these yarns. At the same time, you could see it in fashion and beauty, too, with ombré hair (light to dark and vice versa) and dip-dyed looks in clothing. One of the first color-shifting patterns to make a big splash in the knitting world was maylin Tri' Coterie's Wingspan, first generally available in early 2012. Another dramatic early entrant in designs for color-changing yarns was Dreambird, by Nadita Swings (2013). Here, the color-changing yarn was framed by a solid, or for the daring knitter, another gradient yarn in a contrasting colorway. The short-row techniques in both of these patterns created dramatic shapes as well as bold color stories.
Now the trend was really heating up and designers were playing with different ways to achieve gradual color transitions. Shibui Knits' free cowl pattern Gradient, accomplished it by using three strands of their lace weight silk-mohair blend Silk Cloud in four different shades, switching them out one strand at time. That multi-strand method could be used with any yarn on any kind of garment and the gradient craze took off.
Gradients and other color transitions are still extremely popular, as a glance at the Ravelry Hot Right Now pattern list can tell you. A shift, however, toward a particular look in hand-dyed yarn has moved the direction of designs as well.
Speckles Really are Hot Right Now
In the last year or so, a new technique of applying color to yarn has emerged and become the hottest trend among independent yarn dyers. Speckled yarns, which we define as multi-colored yarns where the color shifts are very short, perhaps only a stitch or two wide, are everywhere. Stephen West, the prolific designer and yarn store owner, started the Instagram hashtag #specklesaresohotrightnow, as he promoted his designs using speckled yarns from dyers like Garnstories, Hedgehog Fibres, and Madelinetosh. As with the neon trend, even the big commercial yarn manufacturers added speckled yarns to their lines to take advantage of this new demand from knitters and crocheters (check out some of the colorways of Worsted Merino Superwash Hand-Dyed from Plymouth as an example). In fact, a glance at the colorways of the indie dyers linked here shows that neon and speckles often go hand in hand. Westknits' recent patterns take advantage of these yarns' pops of color by incorporating stitch patterns like seed or brioche, as well as by combining yarns, held either singly or together.
Fades and Gradients
West also appears to be the first designer to use the term "fade" to describe the technique of segueing from one multi-colored yarn to another in a larger pattern, for his scarf pattern "Speckled Fade," using Hedgehog Fibres Sock. The technique he describes for his color blending, knitting two-row stripes from alternating skeins of yarn, is one familiar to knitters used to trying to transition from one skein to the next in a project requiring multiple skeins of a hand-dyed yarn. Extending that technique to different colorways to create gradient or fade effects is a natural progression, and it is the thing in pattern design right now.
Andrea Mowry's Find Your Fade shawl burst onto the scene in December 2016. Mowry offered tips for selecting yarns to use in the pattern, and Instagram was full of pictures of skeins of yarn lined up with hashtags like #foundmyfade. Yarn dyers like Miss Babs began to offer kits of yarns assembled for use in this pattern, for knitters who were nervous about choosing their own colors. Mowry took the technique and applied to a top-down raglan sweater, So Faded, for adult women, and the So Faded Pint-Sized for children in April 2017.
Mowry's patterns are not the only popular patterns on Ravelry right now that utilize this yarn blending technique for a gradient effect. Just in June 2017, the following patterns were released:
And we're certain more will follow.
Is this trend imitation or inspiration? We think it depends on whether or not you believe a technique is a unique design element. So Faded is a top-down raglan with garter-stitch texture on the upper sleeves. What makes it a compelling pattern is the creation of the subtly shifting gradient of the hand-dyed yarns. A knitter we know took Knitting Pure and Simple's Weekend Neck Down Pullover pattern and blended three colorways of Madelinetosh's Home in a light-to-dark gradient back in January 2017, yarn she had purchased six months earlier with this idea in mind. She wasn't copying anybody; she just knew the colors would work together well and by mixing them, she would have enough yarn to make the sweater. Her sweater didn't start this trend, either, but she might have picked up on something that was gaining traction in the knitting design world. Taking the blending technique and applying to different garments, or with a different alternating sequence (like the Fibonacci Fade, above) seems like inspiration to us. One knitter sees how something works in another designer's pattern and tweaks it a little or combines it with other elements, or on a different garment, and it's a new pattern.
Why is this Trend Hot Now?
We think there are a couple of factors making Fades the hot trend in knitting right now. One is the popularity of speckled colorways. As long as you have one speckle color that remains constant across hand-dyed skeins, you can mix almost anything – pick your common speckle and then go wild. That brings us to another factor in the popularity of these yarn-blending patterns: yarn enthusiasts, especially those who love unique hand-dyed skeins, often end up with a large collection of singleton skeins, often in fingering weight. It's so easy to justify the purchase of a single skein of hand-dyed yarn as a souvenir, or just because we're in love with the dyer's color creativity.
There's a limit, however, to how many pairs of socks, or little scarf/shawlette single-skein accessories one needs to knit or crochet. That's where these patterns are filling an unmet need in knitting pattern design (see our post on the popularity of fingering weight yarn and the popularity of shawl patterns, if you want to examine this situation more deeply). By showing knitters how they can blend their souvenir skeins into a sweater or larger shawl, designers are freeing those skeins from stash and making them shine. It also happens to help sell more yarn.
A point-to-point shawl like Find Your Fade is even more attractive because its narrower ends allow a knitter to use up partial skeins in a new and exciting way, making the purchase of that perfect uniting skein a less guilt-inducing prospect. Finally, the gradient or fade effect is the next stage in evolution from the popular two- and three-color striped patterns of the recent past intersecting with color-blocked patterns. Again, they provide the knitter with a blank canvas to express her creativity in putting colors together in a way that makes sense for her wardrobe and her knitting fun.
And that brings us to a separate phenomenon that contributes to the longevity of this trend: the designers are inspired by the techniques of the independent dyers, but the patterns they create inspire some knitters to take up dyeing, continuing the cycle. Spend some time browsing speckled yarns on Etsy or following small-scale indie dyers on Instagram, and you'll be able to put together your own unique Fade, for whatever project you decide to make. You'll also begin to see what the next big trend will be.
We can help you figure out in what direction your craft-based business should grow, and how to get there. For more information on how we can make magic for your brand, click here to contact Leanne.